If you are someone who feels they need some fitness coaching, then you have probably wondered how to find a personal trainer. I know that it was one of my first questions back when I was studying to become a certified trainer through ACE Fitness (Great program, by the way. I highly recommend you check it out if you are looking to make a career out of fitness).
I wanted to know how people would be able to find me once I had finished my certification and started working. Well, as I continued to study, I learned about an online service that personal trainers could join, make a profile, and be immediately entered into a database for prospective clients to find. It's called, appropriately, Find Your Trainer (FYT)!
Never before has it been easier to get in touch with a trainer who is specific to your goals, personality, and preferences and I hope that this review will show you why you should consider going through them instead of trying to do it yourself!
Working with a personal trainer isn't for everyone, but if you are considering it and wondering why hiring a personal trainer is a good idea, check out this article by Very Well Fit. From extra motivation to being sure you are working out in the most effective manner possible, there are many benefits to hiring a professional.
That being said, let's dive in to FYT!
The Pitfalls Of Going To The Gym To Find A Trainer
In the past, the best way to find a trainer was to either know someone or become a member of a gym. Here are the problems I have found with those methods, though.
The first is that not everyone knows someone who is a personal trainer. It's difficult to start if you don't know where to look.
Secondly, while the gym has its place, I have long been a proponent of breaking away from them because of the large amount of wasted memberships and recurring expenses. I don't like the idea of paying a monthly fee for something that I would barely use, either because I'm too busy, don't feel like driving there, or prefer working out at home.
Additionally, while I love personal trainers and respect their desire to help clients be as healthy as they can be, I found that the gym setting puts a lot of pressure on them. On one interview I did, I was informed about meeting certain quotas, making sales calls, etc. Additionally, the trainers have to give up a percentage of their revenue to the gym.
For me, I'd rather deal with a trainer who is able to be more focused on helping me achieve my goals and doesn't have this kind of pressure as motivation for working with me.
Please don't get me wrong, I'm not saying all gym-based trainers are like that. I just know how that information made me feel on this particular interview. It's one of the reasons I became disillusioned with gyms in the first place.
You may not feel the same way and may have had a great experience with gym-based personal trainers. That means this article may not be for you…however, it may still be, so stay with me to find out the ins and outs of FYT!
How To Find A Personal Trainer With FYT – The Process
For those of you who like to be able to choose from a wide variety of trainers who meet your exact needs, Find Your Trainer is a great tool.
When you first visit the site, you can immediately enter your zip code, which will bring up the Find Your Trainer Quiz. You will be asked a series of multiple choice questions that cover various topics including:
Your fitness goals.
Your activity level.
Your gender and age
Preferred training location and time of day for weekdays and weekends.
What style of trainer you think you'd work best with as well as gender preference.
Something that is important to note: All FYT personal trainers are certified, insured, and given a complete background check. You can rest assured that you will be working with someone who knows their stuff and is completely professional!
Based on the answers you give on the quiz, Find Your Trainer will compile a list of those trainers in your area who meet your criteria. Once you enter your name and email address, they will send you your list of choices. The list comes with customer reviews so that you get a comprehensive picture of the individual before making your choice.
From there, you can build a training program with your chosen trainer based on three separate subscription pricing plans that FYT offers. These include:
Basic: 4 Sessions
Most Popular: 12 Sessions at a 5% discount
Best Value: 24 Sessions at a 10% discount
As far as the pricing goes, each individual trainer will probably have different rates depending on their experience, certifications, and specializations. However, FYT does tell you up front that pricing starts as low as $29 per session.
If you are looking to save more money, they also offer a couple of options. You can choose Partner Training so the cost is split or you can choose Small Group Training to work out with multiple people.
FYT is also the central hub for scheduling and payment. There are no membership fees to pay, you don't need to use your sessions within a certain period of time, you can earn rewards with each session, and upgrade or cancel at any point. Most importantly, if you aren't happy with the trainer you chose, you can change at any time.
If you aren't satisfied after the first session, FYT will fully refund your money as well.
Click the banner below to get started TODAY!
The Pros
There are quite a few things that jump out to me as reasons you should consider signing up with FYT. They are:
All-In-One: There is no going to a gym to search for a trainer, no trying to make schedules work at the gym, or paying the gym to work with one of their trainers. Everything from choosing a trainer, to scheduling and payment is processed right from FYT. That is certainly streamlining the process!
Personalized: Because you fill out a preference quiz as your first act on the site, you won't have to sift through a bunch of trainers that don't match you as an individual. Based on your answers, FYT only sends you those who will train the way you want to be trained.
Trusted: Every trainer being certified, insured, and given a background check really gives me peace-of-mind.
Discounts: The more sessions you book, the steeper your discount. Additionally, if you are signed up for the Honey Browser Extension (read my full review by clicking the link), they are offering discount of $50 off your first training session! FYT is offering a $50 discount as well, should you not want to sign up for Honey.

As a note, the $50 discount with Honey might reward you with Honey Gold for your account.

Save More With Groups: I like having the option to train with a partner or a small group. Some people are uncomfortable with the one-on-one situation, so having some friends along for the session not only gives you support, but also lowers your cost!
Pricing: While individual trainers will charge different rates (some higher or lower based on certifications, experience, etc.), pricing that starts at only $29 a session is pretty cheap for personal training.
Satisfaction Guaranteed: If you aren't happy with your training, you can get a full refund. If you aren't happy with your trainer, you can switch. If you aren't happy with the service, you can cancel. You have full control over your experience, which is very nice!
Better For All: For those who sign up, I feel like there is so much less pressure on you than there would be at the gym. Also, you can find someone who is in your neighborhood and support a local individual! For trainers, I think it's also better because there are no quotas to meet and you have a wider pool of clients! I like it when situations are win-win!
Workouts On Your Terms: Whether you feel most comfortable working out in person at a studio, outdoors, or even virtually, there are trainers on FYT who can accommodate you!
The Cons
I always try to give both sides of the story when it comes to my reviews. While I absolutely love FYT and the service they provide, there are a couple of things I think are worthy of taking a look at before signing up:
Still Too Much?: While $29 per session is pretty low when it comes to personal training, that can still be too pricey for some. Depending on your plan, you could be looking at totals of $116 (4 sessions), $330.60 (12 sessions with the 5% discount), or $626.40 (24 sessions with the 10% discount).
Lower Rates = Less Trained: The reason some trainers will be charging $29 is because they are either just starting out or don't have as many certifications. The more experienced trainers are likely to charge more. That's not to say that beginner personal trainers aren't educated (since everyone is checked), they just haven't been doing it as long.
Are You Ready To Find Your Trainer?
In all, I feel that the problem of how to find a personal trainer becomes incredibly simple when you sign up for Find Your Trainer. I think the pros far outweigh the cons. Not only will you get high-quality training, but it will also be with a trainer who is geared toward your personality.
If you are someone who wants to become a trainer, make sure your certification program works with FYT (That's one of the reasons I recommend ACE Fitness so highly, as their trainers are placed on FYT). It really will help you launch your career.
If you are ready to check out what trainers are available in your area, click the banner below to take your personalized quiz!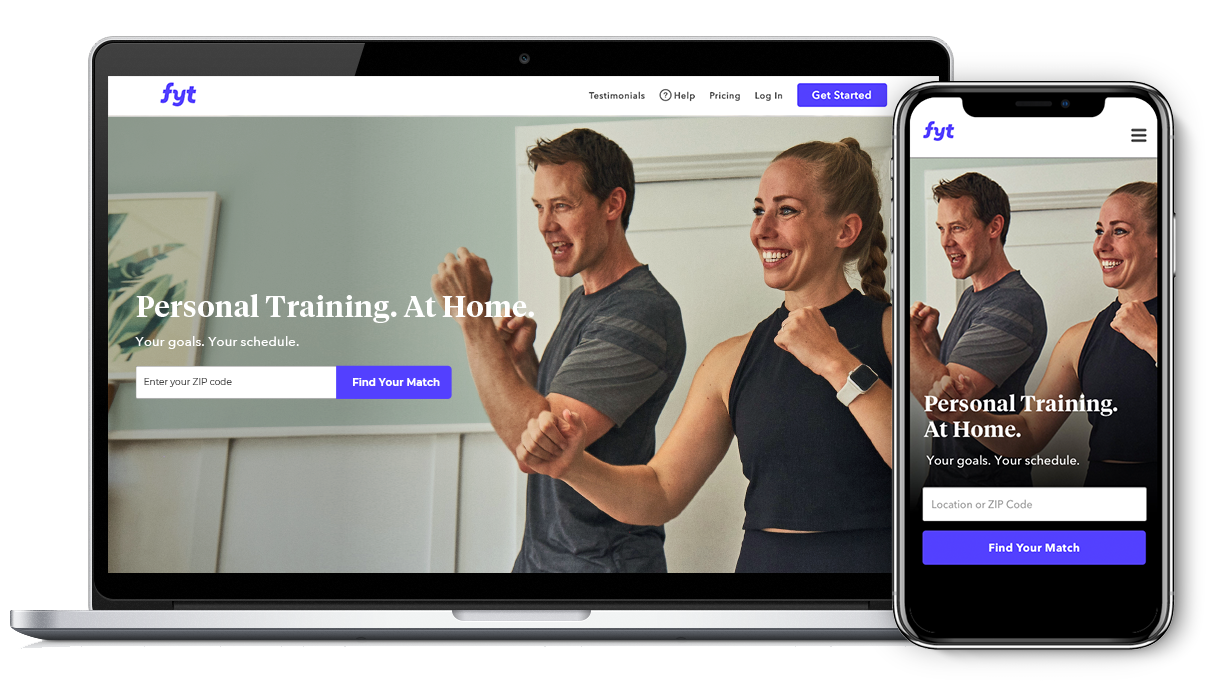 Now, it's your turn! What do you think of Find Your Trainer? Is the pricing better or at least comparable to your experience with personal trainers at the gym? Do you like how it can be a totally online experience (from billing to sessions) or are you more of the in-person type? Has anyone used FYT before and what was your experience like?
I also am curious to hear from any of you who are personal trainers!
If you have any questions, please feel free to leave those along with your thoughts in the comments below! Don't forget to enter your email in the box at the top of the page to subscribe and get notified of all new content.
Do you know anyone who is looking for a personal trainer? Please consider sharing the post with them and others using the icons to the right! It helps support the site a lot!
I understand that you may have read to the end of this post and are thinking to yourself, "FYT sounds great, but I think I'd rather get some equipment so I can work out by myself."
That's fine! I totally get it and that's why I want to offer some links to some of my posts where you can learn about budget-friendly equipment and nutrition solutions that fit any style. Check out the links below to get started!
Power Towers:
Free Weights:
Resistance Bands:
Home Gyms:
Fitness Tracking:
Accessories:
Nutrition Additions:
Services:
I hope you get a lot of good reading from this and the other articles posted that will help you on your fitness journey!
For those of you who are looking to boost your finances in addition to your muscles, there are some great ways to do that as well! I've already mentioned a couple here, but also wanted to point out the one that helped me to build this site!
It's called Wealthy Affiliate and if you are someone who is looking to build an online business, no matter what you are passionate about (it doesn't have to be fitness), then there is no better place to look! Click the link for my full review!
That's all for now! As always, God Bless and Happy Training!
Steve